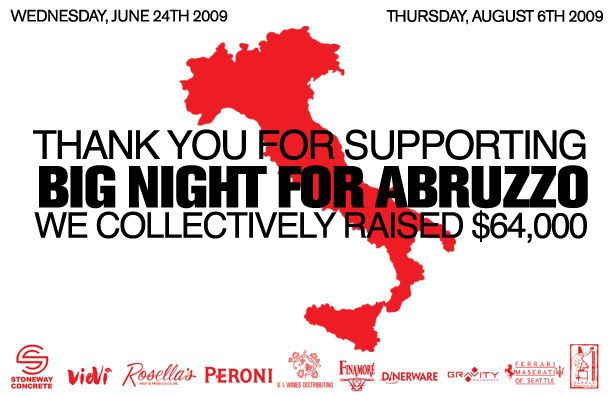 Thank you for supporting Big Night For Abruzzo!
The collective efforts of all our sponsors, supporters, participating restaurants and chefs raised more then $64,000 for the victims on the April, 2009 L'Aquilla earthquake. These much needed funds have been allocated to rebuild a devastated recreation sports facility that was destroyed in the quake.
This tragic earthquake hit 6.3 on the Richter scale and devastated the central Italian region of Abruzzo on April 6th 2009 @ 3:25AM, taking close to 300 lives, hospitalizing over 25,000 and displacing more than 60,000.
Proceeds have been given directly to: Polisportiva Paganica Rugby and will be used to help rebuild the sports and recreation facility lost in the devastated town of Paganica, the epicenter of the earthquake. Currently, hundreds of displaced youth in Paganica and neighboring communities have no organized sports or facilities because of the destruction resulting from the earthquake.
Thank you to our sponsors:

Caffe Vita, Stoneway Concrete, Viovi Wines, Rosella's Produce, Peroni Beer, V.I. Wines Distributing, Finamoré, Dinerware, Gravity Payments and Ferrari of Seattle.
Special thanks to all the participating restaurants:

Barolo, Bella Italia, Bella Napoli, Branzino, Cafe Lago, Caffe Fiore, Caffe Umbria, Caffe Vita, Calabria Ristorante, Cantinetta, Ciao Vito, Europa Bistro, Firenze, Gaspare, Hunt Club @ The Sorrento Hotel, Il Bistro, Il Terrazzo "Carmine", La Rustica, La Spiga, La Vita é Bella, Mamma Melina, Marcello, Mio Posto, Mondello, Paradiso, Piccolino, Pizzeria Guido, Pizzutos, Procopio, Pulcinella, Restaurant Zoe, Ristorante Luciano, Salumi, Salvatore, Sorrentino, Tavoláta, The Mark, The Pink Door, Trinacria, Troiani, Tulio, Tutta, Bella, Via Tribunali and Vince's
A very special thanks to: Armandino Batali of Salumi, Holly Smith of Cafe Juanita, Seattle Public Opera and DJ Derek Mazzone of KEXP!