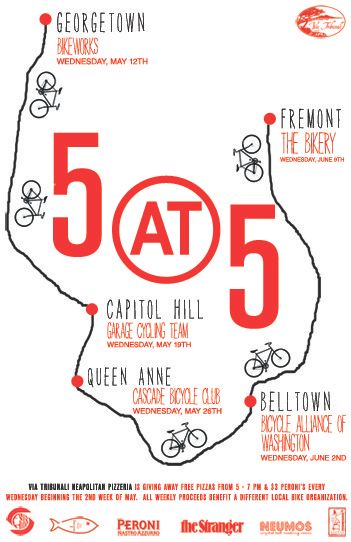 Via Tribunali in association with
Caffe Vita
, Peroni Beer,
The Stranger
and
The City of Seattle's Bicycle Program
present "5@5."
"5@5" is a campaign focused on raising funds for the Seattle biking community, Every Wednesday beginning May 12th we will open our doors to the Seattle biking community and be giving away free margherita pizza's and selling $3 Peroni Beer to anyone that rides their bike to Tribunali from 5 - 7PM on the given Wednesday.
The $3 purchase of Peroni will be donated to the selected biking community partner on the given week. 
Each week "5@5" will take place at a different Via Tribunali location.
Wednesday, May 12
Georgetown 5-7PM
Bike Works
Wednesday, May 19
Capitol Hill 5-7PM
The Garage Cycling Team
Wednesday, May 26
Queen Anne 5-7PM Trips for Kids Seattle- a
Cascade Bicycle Club Program
Wednesday, June 2
Belltown 5-7PM
Bicycle Alliance of Washington
Wednesday, June 9
Fremont 5-7PM
The Bikery